Red Hat and Certification mengumumkan bahwa Ansible Training and Certification  telah ditambahkan ke dalam kurikulum training Red Hat.
Ansible merupakan IT automation engine yang simple, powerful dan tanpa agen yang mengotomatisasikan deployment aplikasi, provisioning, manajemen konfigurasi, workflow orchestration, dan lain-lain.
Alasan Menggunakan Ansible
Ansible sangat cocok dengan Red Hat di mana mampu:
Ansible mendukung multi-tier deployments.
Ansible dirancang untuk mendukung deployment dan penyetingan dari aplikasi yang multi-tier melalui VMs dan container. Artinya mampu mengotomasikan penentuan komponen yang berbeda dari aplikasi yang sama ke tier yang paling efisien.
Sebagai contoh, Ansible mampu me-manage VM dan Guest OS pada VMware vSphere server virtualization environment, deploy dan mengelola instansi pada IaaS Cloud di OpenStack, dan deploy aplikasi di dalam Openshift PaaS Cloud, semua pada saat yang bersamaan.
2. Ansible memberikan consistency pada arsitektur dengan multiple layer
Ansible dapat digunakan untuk memanipulasi secara program setiap layer dari arsitektur komputer, dari infrastruktur ke aplikasi, dan untuk setiap use case, dari orchestration deployment hingga konfigurasi.
Sebagai contoh Ansible mampu mengotomasi semuanya termasuk konfigurasi jaringan, storage, perhitungan (pada OpenStack instances), sistem operasi, middleware (Red Hat JBoss Middleware) dan layer aplikasi.
3. Ansible mendukung environment IT yang heterogen
Ansible mampu mengotomasi konfigurasi dari berbagai macam teknologi dari berbagai vendor tidak hanya Red Hat.
Ansible mampu menguatkan dan melengkapi portofolio Red Hat, seperti pada gambar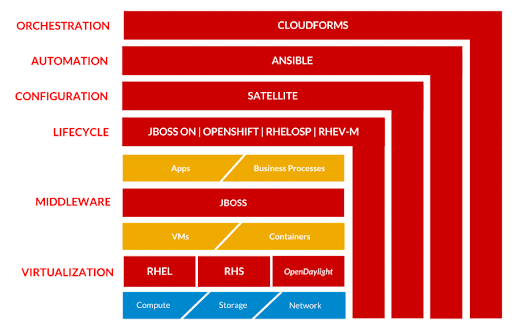 i3 menyediakan berbagai service, dari middleware (JBOSS), Satellite, dan RHEV yang di dukung oleh Ansible.
i3 membantu profesional IT Indonesia dalam mencapai potensi terbaiknya. Kami menyelenggarakan pelatihan teknologi dari beberapa principal terkemuka seperti CompTIA,ECCouncil, EMC, Oracle, RedHat, dan VMware.
Selain sebagai tempat training IT yang banyak direkomendasikan oleh praktisi, i3 juga menawarkan jasa IT Services di empat bidang utama keahlian: Open Source, Virtualisasi, Database, dan IT Security. Semua training dan services ditangani oleh instruktur dan konsultan yang berpengalaman dan memiliki sertifikasi internasional.
Untuk info lebih lengkap mengenai training yang tersedia di i3, Anda dapat menghubungi langsung tim sales kami melalui halaman Contact Us.