Oracle database vault adalah bagian dari security oracle database enterprise edition yang dirilis pada tahun 2007 di  oracle database 10g, dan sekarang tersedia di 11g. Oracle database vault memberikan kontrol keamanan virtual yang kuat untuk membantu melindungi data aplikasi dari akses yang tidak sah serta dapat membatasi akses ke area tertentu dari pengguna manapun. Misalnya anda dapat membatasi akses administratif ke gaji karyawan, catatan medis pelanggan, atau informasi sensitif lainnya.
Database vault menyediakan komponen-komponen berikut untuk mengamankan database:
Realms
Pengelompokan fungsional dari skema database, objek dan role yang harus diamankan. Untuk mencegah privilage pengguna database dan bahkan aplikasi privilage mengakses data di luar otorisasi mereka.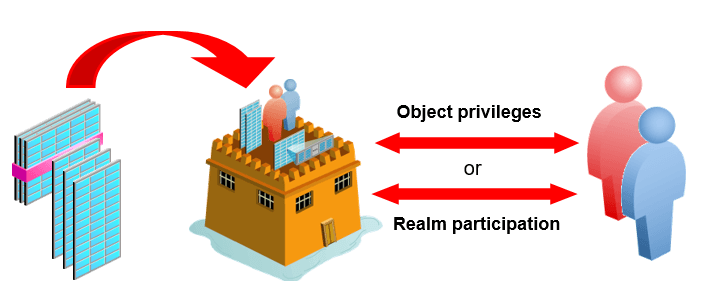 Contohnya mengelompokkan skema, objek dan role terkait dengan akutansi atau penjualan. Setelah di kelompokan menjadi sebuah wilayah kita dapat menggunakan ranah untuk mengontrol penggunaan sistem ke akun tertentu.
Rule sets
Kumpulan aturan yang dievaluasi untuk tujuan memberikan akses
Command rules
Anda dapat menggunakan kumpulan aturan untuk memberikan keamanan kunci ganda, dimana tindakan terpisah lain harus dilakukan untuk akses yang diminta untuk diberikan.
Contohnya adalah mengharuskan pengguna tertentu untuk masuk dari mesin klien tertentu agar pengguna lain memiliki akses ke data atau paket tertentu.
Secure application roles
Peran aplikasi yang aman dibuat untuk mensyaratkan kondisi spesifik agar benar sebelum mengambil izin atau hak istimewa yang diberikan untuk peran tersebut. Jadi, peran aplikasi yang aman sepenuhnya terdiri dari nama peran aplikasi yang aman dan seperangkat aturan terkait.
Factor
Faktor Vault Database adalah blok untuk mengontrol akses dan keamanan basis data secara keseluruhan. Faktor diberi nama variabel. Setiap faktor memiliki nilai yang ditetapkan untuk itu. Nilai ini disebut identitas. Faktor-faktor digabungkan dengan cara yang logis dengan faktor-faktor lain dalam aturan dan set aturan untuk memberikan dasar bagi kebijakan kontrol akses.
Kelebihan dari oracle database vault :

         Oracle database vault membantu menangani peraturan terhadap privasi data dan standar seperti peraturan perlindungan data umum, standar kemanan data industri kartu pembayaran, dan banyak peraturan lain yang memerlukan kontrol internal.
Prevent Unauthorized Changes to the Database

Mencegah perubahan data yang berbahaya atau tidak disengaja oleh user seperti melakukan DROP TABLE atau ALTER SYSTEM di luar maintenance windows.
Use Multiple Trusted Factors to Authorize Access

Untuk meningkatkan keamanan, Oracle database vault dapat digunakan untuk mengontrol Alamat IP, nama pengguna, dan nama program klien.

Informasi ini digunakan untuk menyesuaikan akun dengan hak isitimewa paling kecil untuk meminimalkan serangan dari para peretas.
Fast, secure and Embedded

Menghilangkan perubahan aplikasi yang memakan biaya dan waktu dan menawarkan kompatibilitas dengan arsitektur enterprise tanpa perlu menggunakan server dan agen tambahan.
Manfaat dari Oracle Database Vault meliputi:
Kontrol khusus dari kondisi akses data:
Aturan yang menentukan siapa yang dapat mengakses data apa yang dapat dimodifikasi lebih lanjut. Ini memungkinkan Anda untuk menolak akses ke data ketika database diakses dalam kondisi tidak aman.
Otorisasi multifaktor
Pengguna dapat menggunakan otorisasi multifaktor untuk menempatkan beberapa pemeriksaan pada akses pengguna ke data. Misalnya, pemeriksaan dapat dilakukan untuk memungkinkan pengguna aplikasi mengakses data hanya selama jam kerja.
Perlindungan objek data dan database
Aturan perintah dapat didefinisikan untuk melindungi data dan objek database dari perubahan yang tidak disengaja atau sengaja.
Selain sebagai tempat training IT yang banyak direkomendasikan oleh praktisi, i3 juga menawarkan jasa IT Services di 4 bidang utama keahlian: Open Source, Virtualisasi, Database, dan IT Security. Semua training dan services ditangani oleh instructor dan konsultan yang berpengalaman dan memiliki sertifikasi internasional.
Informasi lebih lanjut tentang lengkap jadwal pelatihan dan layanan IT silahkan hubungi kami melalui info@i-3.co.id