Apakah anda akan mengambil sertifikasi vmware ? Kalau iya tak ada salahnya jika anda mengambil track NV (Network Virtualization) karena track ini menarik untuk diikuti dan banyak digemari selain track DCV (Data Center Virtualization). Sebelumnya alangkah lebih baiknya jika kita mengetahui apa itu Network Virtualization (NV).
NV adalah salah satu istilah yang digunakan jika kita melakukan replikasi semua komponen dari network dan security services dalam sebuah software container. Sehingga proses provisioned dan managed dari network tersebut tidak tergantung kepada hardware dan perangkat jaringan fisikal kita. Dan dengan NV kita bisa menyederhanakan proses forwarding paket. Dengan NV network admin anda bisa membuat  dan provision virtual network seperti logical switches, routers, firewall, loadbalancer, VPN, dan workload security dalam hitungan menit saja.
Berikut adalah perbandingan antara server virtualization dan Network virtualization: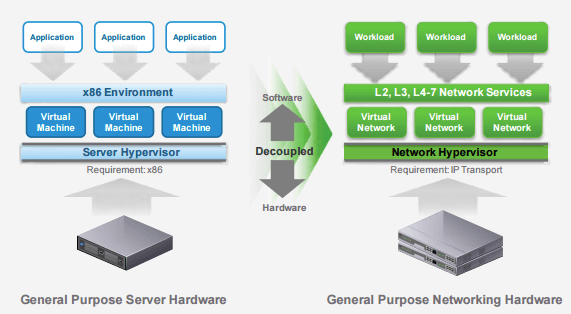 Pada gambar diatas dapat kita lihat bahwa antara DCV dan NV sebenarnya hampir sama, hanya beda pada istilah saja. Sehingga apa artinya ini semua bagi sebuah IT Enterprise? Perusahaan bisa menggunakan network virtualization untuk terhubung ke hybrid cloud tanpa perlu khawatir tentang ketergantungan hardware network, interoperability, atau service provider lock-in sehingga hybrid cloud menyediakan business agility, menyederhanakan operation dan harga opex yang rendah.
Berikut bahasan tentang Network virtualization yang bisa anda download, sebelum mengambil training NV:
Redefining Networking with Network Virtualization, yang membahas tentang:
– Network legacy: kompleksitas, konfigurasi, cost dan cyber attack
– Tiga trend reshaping networking industri
Network Virtualization Makes Your Life Easier, yang membahas tentang:
– Cara Mencapai demands dari bisnis yang dinamis
– Meningkatkan security dengan micro-segmentation
– Meningkatkan flexibility dengan hardware abstraction
– Membangun sebuah platform untuk SDDC
Selain itu, anda juga bisa mengambil training berupa elearning dari VMware secara free, dengan klik link berikut:
VMware Network Virtualization Fundamentals 2016
Link diatas berisi materi tentang:
Course Introduction
Introduction to SDDC and Network Virtualization
– Introduction to SDDC
– Current State of Network Virtualization and Challenges in the Industry
– Network Virtualization Overview
VMware NSX Components and Services
– VMware NSX Components
– vSphere Networking Overview
– VMware NSX Logical Switching
– VMware NSX Logical Routing
– NSX Edge Services
VMware NSX Security
– VMware NSX Security Overview
– Logical Firewalls
– Service Composer
VMware NSX Use Cases
– Why Businesses Need VMware NSX
– Security Use Cases
– IT Automation Use Cases
– Application Continuity and Disaster Recovery Use Cases
Setelah mengambil beberapa resource diatas, anda seharusnya sudah mengetahui tentang benefit dan use case dari VMware NSX dan komponennya yang lain, fitur dan servicesnya dan anda siap untuk mengambil training dan exam NV.
Inovasi Informatika Indonesia (I3) merupakan authorize partner dari Redhat  dan VMware yang menyediakan berbagai jenis kelas training dan sertifikasi di bidang cloud dan Virtualisasi, mulai dari tingkat fundamental sampai tingkat advance.
Selain sebagai tempat training IT yang banyak direkomendasikan oleh praktisi, i3 juga menawarkan jasa IT Services di 4 bidang utama keahlian: Open Source , Virtualisasi, Database, dan IT Security. Semua training dan services ditangani oleh instructor dan konsultan yang berpengalaman dan memiliki sertifikasi internasional.
Informasi lebih lanjut tentang lengkap jadwal pelatihan dan layanan IT silahkan hubungi kami melalui info@i-3.co.id dan live chat.