Apakah anda sudah backup vCenter Server production anda ? vCenter sever appliance (VCSA) mempunyai fitur ekslusif yang ada sejak rilis vsphere 6.5, yakni fitur built-in file based backup and restore. Solusi backup vcenter yang baru ini terdapat pada Vmware Appliance Management Interface pada port 5480 yang support backup VCSA dan PSC (platform service controller) tanpa bantuan dari backup agent dan tanpa downtime VCSA dan PSC ketika backup. Backup files termasuk database vcenter akan dikirim ke backup tujuan dengan protocol FTP, HTTP dan SCP. Sedangkan untuk restore VCSA atau PSC hanya membutuhkan mounting ke VCSA ISO yang digunakan selama instalasi VCSA, kemudian ikutin wizard step by step yang ada pada menu restore hingga sampai terbentu VCSA baru yang merupakan hasil dari backup-an VCSA yang lama dengan identity yang sama dengan vcenter yang lama.
Untuk melakukan proses backup file based, maka langsung masuk ke VAMI port 5480 kemudain klik pada tab summary dan backup tab. Pada gambar dibawah ini menunjukan bahwa ada beberapa opsi untuk schedulling backup, seperti location, frequency, dan time. Backup location format sudah berbeda sejak vsphere 6.5, sekarang menggunakan format: Protocol://Server Address: Port/Backup Folder/Subfolder.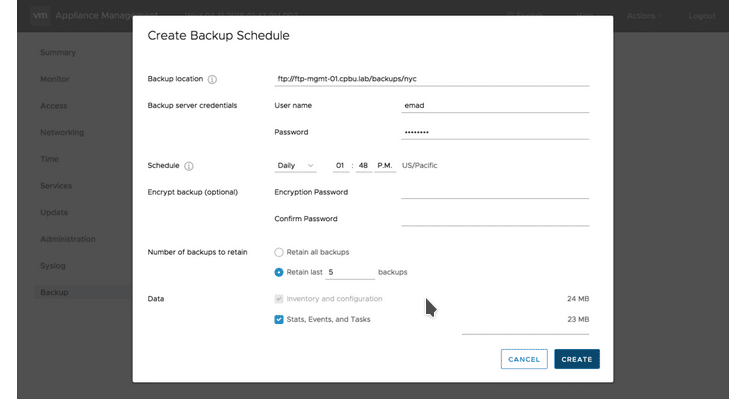 Pada bagian ini juga terdapat opsi restention backup, yang menandakan apakah backupan files kita akan di simpan semua nya atau hanya mempertahankan beberapa files backup saja dengan mencantumkan angka pada opsi retain option sehingga backup yang lama akan dihapus secara otomatis jika telah mencapai angka tersebut.
Setelah mengisi backup schedule, kemudian data-data scheduling backup akan muncul pada backup schedule status yang juga bisa di edit, delete atau disable.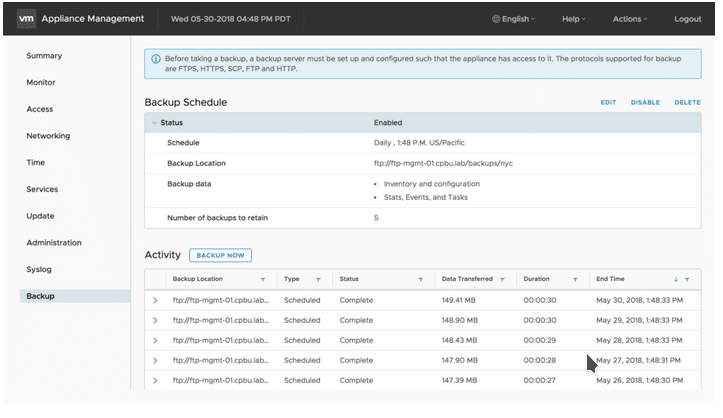 File-based Restore 6.7
peningkatan pada restore proses di vsphere 6.7 adalah adanya browse archive backup. Sehingga kita tidak harus mengingat semua location path backup.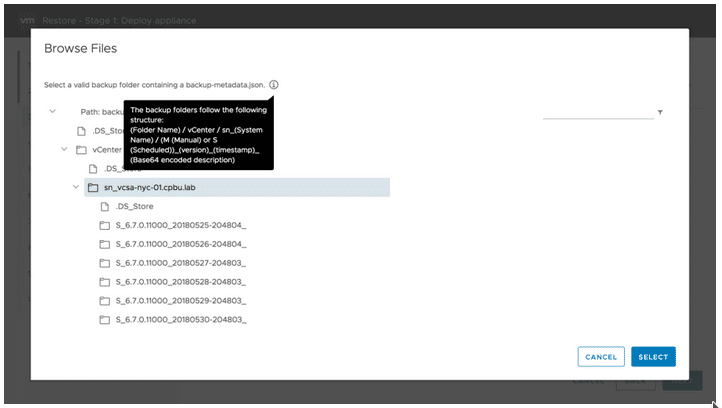 Pada proses restore VCSA, credential vsphere SSO dibutuhkan untuk rekonsilasi. Sedangkan pada versi sebelumnya, script restore dibutuhkan setelah restore vcenter server yang telah tergistered ke PSC untuk rekonsilasi.
Untuk step by step file-based backup walkthrough bisa dilihat disini.
Sedangkan untuk step by step restore walkthrough bisa dilihat disini.
Untuk backup and restore overview nya bisa dilihat pada video berikut
Inovasi Informatika Indonesia (I3) merupakan authorize partner dari Redhat  dan VMware yang menyediakan berbagai jenis kelas training dan sertifikasi di bidang cloud dan Virtualisasi, mulai dari tingkat fundamental sampai tingkat advance.
Selain sebagai tempat training IT yang banyak direkomendasikan oleh praktisi, i3 juga menawarkan jasa IT Services di 4 bidang utama keahlian: Open Source , Virtualisasi, Database, dan IT Security. Semua training dan services ditangani oleh instructor dan konsultan yang berpengalaman dan memiliki sertifikasi internasional.
Informasi lebih lanjut tentang lengkap jadwal pelatihan dan layanan IT silahkan hubungi kami melalui info@i-3.co.id dan live chat.